Twelve South BookBook Travel Journal for iPad Air, Mini
Twelve South has introduced newest case – BookBook Travel Journal for the iPad Air and iPad Mini. This vintage leather case is priced 100 dollars.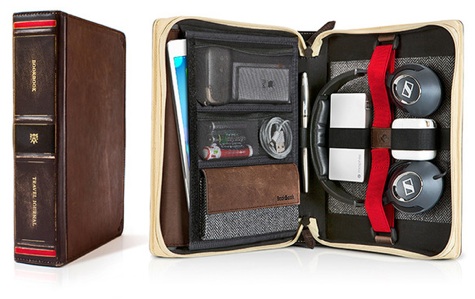 Priced at 75 dollars, BookBook Travel Journal looks like a vintage book, but it's really a dapper, hardback leather case designed to hold your iPad and the essential accessories that go with it. Inside you'll find a collection of pockets and adjustable bands that neatly organize and protect items like your power adapter, cables, USB drives, stylus, mouse, earbuds or high-end headphones. Say bye-bye to your backpack. Everything you need for the road fits inside BookBook Travel Journal. BookBook Travel Journal is compatible with all models of iPad Air, iPad mini and iPad.
Features.
Contains over a dozen pockets and straps to organize your gear
Stores iPad, headphones, adapters, chargers, batteries, stylus, cables
Old-world book design discourages theft while on the go
Separate plush pocket fits all iPads
Product dimensions
Width 8 inches (203 mm)
Height 10.3 inches (262 mm)
Depth 1.9 inches (49 mm)
Weight 16 ounces (453 g)