There have been lot of amazing cases lately. However, there are times when we come across an iPad case that stands out in terms of looks or features. This time, we have a case that is rugged type from Gumdrop called Hideaway, which has a stand built in. It has a rugged back with pattern to prevent slipping out of hands, and a built in stand on the back so that you can use sit back and relax watching your favorite movie or album slideshow. The Hideaway case can be summed as Bounce + Stand = Hideaway.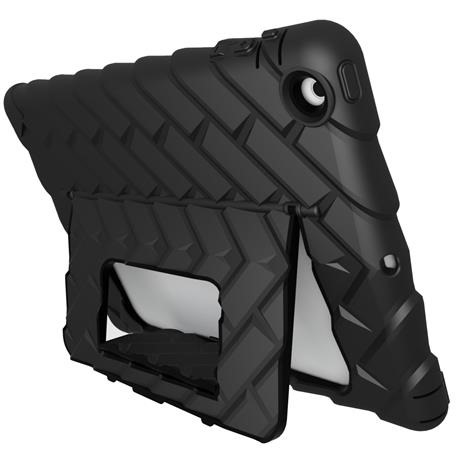 If you're looking for the most rugged, durable yet ultimately affordable protection for the iPad Air, you found it in the Hideaway Case for the iPad Air. The Hideaway with built-in stand for the iPad Air provides the most rugged, durable, yet ultimately affordable protection on the market, specifically conforming to the shape of the iPad offering multiple layers of protection. This iPad case features a unique, snap-on integrated screen for maximum protection.
Features.
Complete security for the iPad, including screen and port covers
Built in hide-away stand2 viewing angles
Dual material construction for multiple layers of shock absorption
Reinforced rubber bumpers on the corners
Includes integrated screen cover for protection during use.
Item Specifications
Compatible device(s): Apple iPad Air
Product dimensions: 7 3/4″ x 10″ x 3/4″
Weight: 1 lb. 2 oz.
Material: Silicone rubber