Photo editing is something that everyone wants to do but are too afraid of using complex softwares. Interestingly, most of us have very basic image editing needs and to satisfy those needs, we are going to take a look at the Movavi Photo Editor for Mac. It is one of the best photo editors available for Mac right now. Installation is easy and fast. Download Movavi Photo Editor for Mac from Movavi's website and drag the downloaded DMG onto the Applications' icon. It will get installed automatically. You might be asked to provide it administration permission. It is also available for windows and functionality is similar for both platforms.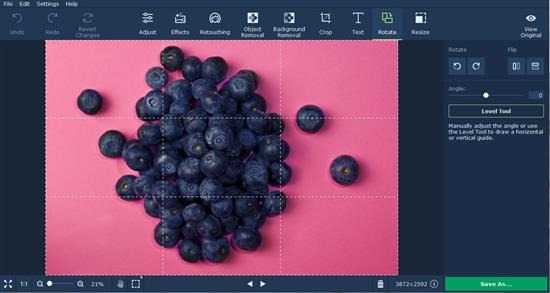 Open a picture that you wish to edit in Movavi photo editor for Mac app. The first feature you should try out is Auto Enhance. With a single click, the software will improve the photo. If you want to increase the contrast, you can do that by going to Adjust > Contrast and move the slider to the right to increase it. You can do the same for other effects. For instance, if you want to sharpen it, move the slider adjacent to sharpness label to the right.
Movavi Photo Editor for Mac has several image editing abilities as well. You can crop, rotate the picture with ease which is useful if you want to get rid of unimportant objects. It is even possible to replace the background by making use of "background replacement" feature. For that, select the object in question and then use the swap tool to replace it something else of your choice.
Other useful features include ability to add captions and watermarks to the images which can be useful if you want to describe what's there in the photo.
It is also possible to improve someone's looks. You can erase the blemishes with spot removal feature and apply mascara, blushes and so on. You can even whiten the teeth.
Once you have done all the editing, you can save the file in same format as original or choose one of these, BMP, DPX, JPEG, PCX, PBM, PNG, PGM, PPM, TIFF, TGA or XBM. The runs on all versions of Mac 10.6.8 or higher and is available in variety of languages.
Verdict – Movavi photo editor is an indispensible app for any Mac user. If you are serious about photo editing, you got to have it on your computer.