O Reilly has released missing manual for the iPad, and to read it you must install free app called Kindle on your iPad. It costs:
Digital List Price:    $19.99
Print List Price:     $24.99
Kindle Price (US$):     $9.45
You Save:     $15.54 (62%)
Features of this ebook.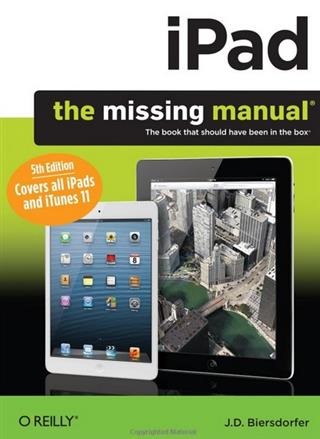 Take tap lessons. Become an expert 'Padder with the new iPad Air, the iPad Mini with Retina display, or any earlier iPad.
Take your media with you. Enjoy your entire media library—music, photos, movies, TV shows, books, games, and podcasts.
Surf like a maniac. Hit the Web with the streamlined Safari browser and the iPad's ultrafast WiFi connection or 4G LTE network.
Run the show. Control essential iPad functions instantly by opening the Control Center from any screen.
Beam files to friends. Wirelessly share files with other iOS 7 users with AirDrop.
Get creative with free iLife apps. Edit photos with iPhoto, videos with iMovie, and make music with GarageBand.
Get to work. Use the iPad's free iWork suite, complete with word processor, spreadsheet, and presentation apps.
About the author of O Reilly iPad Missing Manual.
J.D. Biersdorfer is the best-selling author of iPad: The Missing Manual, Best iPhone Apps (Second Edition), Netbooks: The Missing Maunal, and The iPod Shuffle Fan Book. She is the co-author of iPod: The Missing Manual, Google: The Missing Manual (Second Edition), iPhoto '09: The Missing Manual, and The Internet: The Missing Manual. She has authored the weekly technology column "Q&A" for the New York Times since 1998 and often writes about art, books, and design for other sections of The Times. J.D. also co-hosts the independent Pop Tech Jam audio podcast, which explores current events in the world of technology and geek culture.
Download link.