We will help you choose the best Apple iPad Air tempered glass screen protector. If you just bought a shiny new iPad, and love its big super high resolution display. But you also want to keep it in pristine condition and scratch free. There are literally thousands of screen protectors out there in the market. However, only a few do a job well. We have prepared a list of 5 best screen protectors for the Apple iPad Air.
Some of the best iPad Air screen guards are glossy while some have anti-glare coating. If you want to retain the color accuracy, it is best to stay with glossy screen protectors but if you work under bright sunlight or brightly-lit conditions, then it is best to go for iPad Air anti-glare screen protector which are not tempered. It shall be noted that iPad Air 1 and Air 2 screen guards are same.
OMOTON Ultra Clear 9H Hardness Tempered-Glass Screen Protector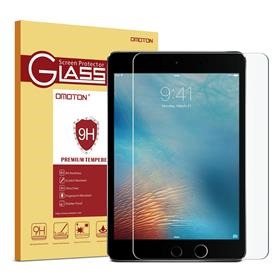 * Particular Design. Laser-cut dimensions provide maximum protection for the screen of your device. Only fit for Apple iPad Pro 9.7 inch/iPad Air 2/iPad Air, will not fit for any other tablets.
* Scratch Resistant. This 9H Hardness screen protector can effectively protect your Apple iPad Pro 9.7 inch/iPad Air 2/iPad Air from unwanted scuffs and scratches by knife, keys and some other hard substances.
* Easy installation. Bubble-Free Adhesive makes it easy to install this Apple iPad Pro 9.7 inch/iPad Air2/iPad Air screen protector.
4. HD Retina Clarity. High-Transparency provide you high-definition clear viewing. Hydrophobic Oleophobic screen coating protects against sweat and oil residue from fingerprints and keeps high-sensitivity touch response.
Coolreall Tempered Glass Screen Protector

* 0.33 mm thickness and promises full compatibility with touchscreen sensitivity.
* Ultra-clear with 99% transparency to allow an optimal, color reproduction,HD clear display ,natural viewing experience.
* Highly durable, broken screen protection and scratch resistant – surface hardness 9H.
* Oleophobic plating coat can easily separate oil, fingerprint and other stains from the glass, making it easy to clean up.
InaRock Tempered Glass Screen Protector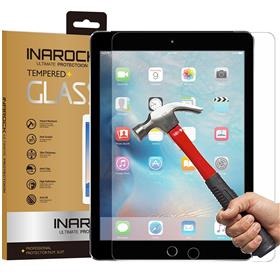 * Shatterproof, Oleophobic Coating,High Transparency, Surface Hardness, Delicate Touch,Perfect Adhesion
* Oleophobic Coated Chemically Treated Glass
* Real Glass with Scratch-Proof Hard Coated Surface [9H Hardness] resist sharp objects like knives and keys.
* Only 0.26 mm thick keeps 100% touch sensitivity.
* Glass is made with specially processed Tempered Glass to protect screen of the device from shocks and scratches.It is very effective in absorbing the impact
JETech Premium Tempered Glass Screen Protector Film for Apple iPad Air 1, 2

* Made with high quality 0.33mm thick premium tempered glass with rounded edges exclusively for Apple iPad Pro 9.7 / iPad Air 1/2 all models
* Extremely high hardness: resists scratches up to 9H. High-response high transparency
* Dust-free, fingerprint-free, one-push super easiy installation, bubble free
Supone 2-Pack iPad Air Air 2 Glass Screen Protector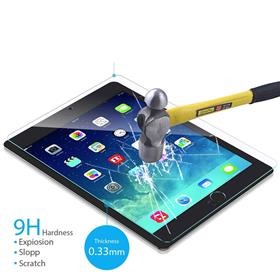 * Shatterproof Perfect Adhesion, specifically designed for Apple iPad Air, iPad Air and iPad Por 9.7 inch
* Ultra-clear transparency to allow an optimal, natural viewing experience
* Highly durable, and scratch resistant – surface tempered glass hardness 9H
iXCC iPad Air Screen Protector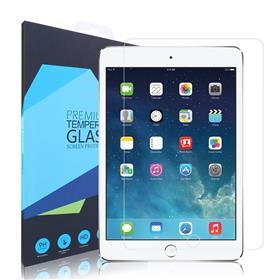 * High definition (HD), 0.3mm ultra thin thickness preserves the original viewing quality and maintains the original touch experience
* Oleophobic coating reduces smudges, fingerprints, oil stains and ensures easy cleaning. 9H hardness effectively resists scratches and shock
* Easy to install without any gaps or bubbles. Perfectly adheres your Apple ipad air 1 / air 2 screen with the precise dimension