Best iPad Air Anti Glare Screen Protector
The screen of the Apple iPad Air is one the best out there and since it is a big display, it is prone to scratches. That is why one must invest in screen protector for iPad Air. There are two types out there – one is glossy type and second is anti glare type. We prefer getting the latter as the display becomes a mirror in direct light and gets in the way when using the device.
High quality iPad Air Anti Glare Screen Protector
There are quite a few screen protectors out there so our iPad experts tested out the best ones and choose the best iPad air anti glare screen protector so that you get the best deal. Most of them come in a pack of five or two and retail for under 15 dollars.
1. Am Film – pack of 2 – very high quality $8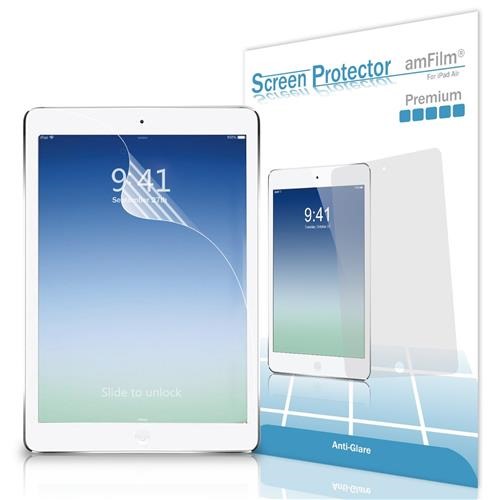 * Specifically designed for iPad Air/5G
* High quality, 3-layer PET film designed to reduce glare and resist the oils that create smudges/fingerprints
* Protects screen from daily scratches, dust, scrapes, and normal signs of wear
* Attaches smoothly with a self-adhering surface, leavse no residue when removed
* Includes: (2) Anti-Glare Screen Protectors, Micro-Fiber Cleaning Cloth, Plastic Squeeze Card
2. iSmooth Ultra matte anti fingerprint protector – pack of 2 – $12 best seller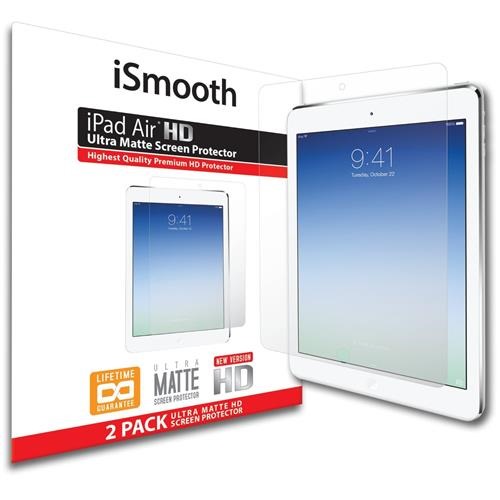 * Quality Japanese PET Material
* Lifetime Replacement Warranty
* Bubble-Free and No Rainbow effects
* Easy Installation Guaranteed
3. SuperShieldz – pack of 3 – $3.49 – cheapest
* Anti-glare matte technology which * Removes glare and resists fingerprints
* Made from the highest quality Japanese PET Film with 100% Bubble-Free Adhesives for easy installation and no residue when removed
* Pre-cut to fit your screen exactly .
* Scratch resistant coating.
* Real Touch Sensitivity for a natural feel that provides flawless touch screen accuracy
4. Invellop – pack of 3 – $6.95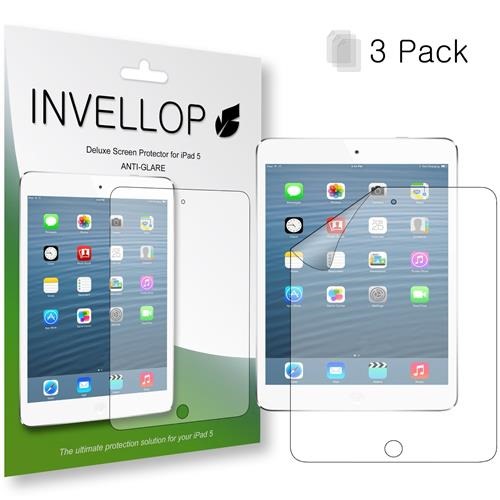 * High quality Anti-Glare Matte Screen Protector for iPad Air 5G
* Precise cut for best fit and easy installation (also with a cut out for the front camera)
H* ard coated: scratch and scuff resistant
* Static cling adhesion: Will not leave sticky residue when removed
* Includes: 3 high quality iPad Air anti-glare screen protectors, squeegee, cleaning cloth, instructions
5. Anker – pack of 2 – $6.99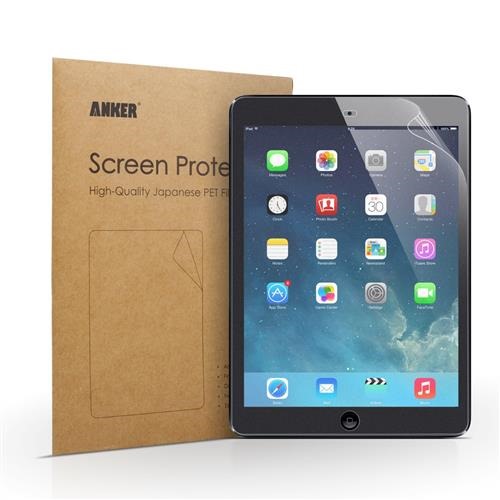 * High quality Japanese PET film precisely cut to your screen's size for a perfect fit.
* Optimized layer design and specialized coatings ensure anti-glare, anti-fingerprint, and a silk-smooth touch experience. Industry-high 90% transparency rating enables high-definition viewing quality.
* High-response material gives the feel of directly touching the screen.
* 4H-hardness, anti-scratch protection effectively resists scratches and wear.
* Package contents: [2-Pack] screen protector, 1 micro-fiber cloth, 1 bubble-removal card, 1 dust-removal adhesive strip, 1 instruction manual.
6. Tech Armor $9.95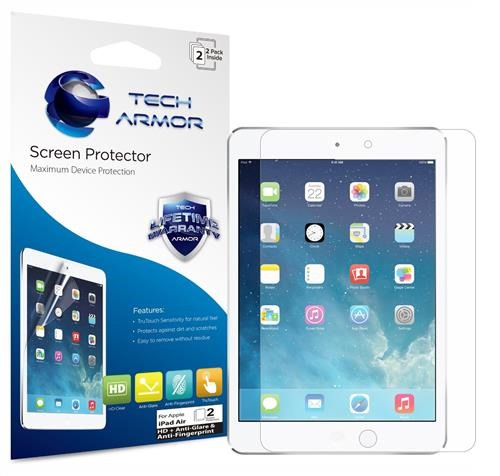 Tech Armor Apple iPad Air (Generation 5) Premium High Definition (HD) Antiglare Screen Protector with Lifetime Replacement Warranty [2-PACK] – Retail Packaging