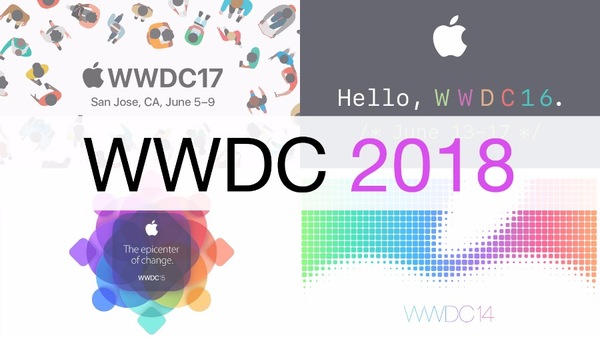 There are 7 days to WWDC 2018. After a somewhat underrated keynote in March, Apple prepares its developer conference where, this time, we will see many surprises in the form of hardware and software and other developments. At the WWDC 2017, we also made our predictions and we were not disappointed: new iMac, MacBook and iPad Pro saw the light, with new features such as the Touch Bar or the new form factor of the iPad Pro. Similarly, it was also announced the arrival of HomePod and iMac Pro. This time, at WWDC 2018, we expect more of the same, but better. Do you want to know everything that Apple could present in a week in its WWDC 2018? Well, keep reading.
Possible presentations WWDC 2018
Beats Decade Collection
A new headset from Beats could be the first gadget confirmed for WWDC 2018. The Beats Decade Collection will be launched to commemorate the tenth anniversary of the brand and all its features have already been shortlisted by many.
MacBook and MacBook Pro
Apple is expected to introduce new generations of MacBook and MacBook Pro with the brand new Intel processors, the Coffe Lake. Currently, Intel is manufacturing the Cannon Lake chips, which would allow the arrival of 32 GB of RAM to its next equipment, something that we will not see next June 4 but in 2019.
Will Apple encourage the introduction of the Truedepth camera on MacBooks? It would not be unreasonable, considering that Microsoft already uses facial recognition in some of its laptops.
The MacBook Air is a model that is due for upgrade and this could be the year, Apple finally upgrades it. Let's hope Apple keeps the laptop lighter and affordable as such, but updating it with better hardware and more modern lines – a screen without borders would be spectacular.
Not much is expected for the new operating system of Mac computers, except for the solution of problems detected in High Sierra after adopting its new file system.
At the moment, universal apps will have to wait, but it seems that there are shots in both functionality and design, in fact it is known that the new Apple Store Mac will look a lot like the iOS 11 App Store.
iPad Pro
We have spent time talking about a new iPad Pro that acquires the design of the iPhone X, ie, with a screen without borders and Face ID, something that could become reality with this iPad X that would further consolidate Apple's tablet as the best sector and, at the same time, encourage a market hungry for novelties.
Apple last year reduced the edges of the iPad Pro 10.5 inches, managing to integrate a larger screen in the same dimensions, so do not rule out that almost complete screen, which leads to two possibilities for the device 12, 9 inches: reduce its dimensions to the same screen or keep them and launch a gadget with a huge screen.
As it could not be less, the integration of A11X processing and performance improvements is expected.
iPad Mini
Now that the new iPad of 2018 is compatible with the Apple Pencil and has the A10 chip, no one in their right mind would invest in the iPad mini 4. So there are three options: either Apple lowers the price or updates it or withdraws it from the market. In case of opting for a new generation, we would expect compatibility with the Apple Pencil and the Face ID to replace the Touch ID.
AirPower
The great unknown. Last year, Apple announced AirPower, its proposal to wirelessly charge several of its devices at the same time. In theory, it would be commercialized in 2018, but at the moment nothing is known. Maybe WWDC 2018 is when we can finally get to him. Anyway, its sale is a matter of little time.
AirPods: new case with wireless charging
What better to use AirPower than a compatible wireless sleeve, so that you can simultaneously charge iPhone, Apple Watch and AirPods. Well, this new cover could be a reality for a modest 69 dollars. In any case, at the moment it would not stop being an optional cover that we would have to buy separately.
iPhone SE 2
The iPhone SE 2 has been the talk this spring. Will there be iPhone SE 2? And if there is, will it resemble its predecessor or will it combine the aesthetics of the iPhone X with the size of the original model? The most optimistic rumors point to an iPhone SE 2 with a crystal case for wireless charging, Face ID and a price so interesting that it would make it irresistible.
WatchOS 5
If WatchOS 4 was a great update that incorporated new designs and more functionality, the fifth installment of the operating system for Apple Watch will follow the wake by increasing functions and improving other developments. For example, more spheres and the always-on display mode are expected.
HomePod
Although it is already the fourth best selling smart speaker, the HomePod is not being the success that Apple expected. Between the causes we can emphasize the absence of AirPlay 2 that makes impossible the pairing in stereo, the shortcomings and limitations of Siri, the price or the incompatibility with Spotify.
However, Apple could give a boost to its smart speaker by increasing the functionality of Siri. It is early for Apple to launch a cheap HomePod, although it is not ruled out that it will do so in the coming months.
iOS 12
How many betas have we already known about iOS 11? Truth be told: how many problems iOS 11 has given us! That's why we are clear that iOS 12 will focus on improving the stability and performance of the iPhone and iPad, without great bravado beyond AirPlay 2, a smarter Siri at last and more weight of the Truedepth camera. For the iPad, iOS 12 will continue to expand functions aimed at improving productivity. The great novelties are reserved for iOS 13.
Mac Pro
Although it is not a launch itself, the WWDC 2018 could be used to see more about the Mac Pro that Apple will launch in 2019, although it could be done in this event in June or in September.