UVerse now offering live TV streaming on iPad
The subscribers of AT&T U-verse TV can add this fun to their tablets and phones just by logging in to Uverse.com or through their special applications. The TV content that you will be able to see will be based on your subscribed channels. While the iPad users can access it right away, Android tablet and phone users will have to wait till 21st October. The iPhone users can try it on 16th October.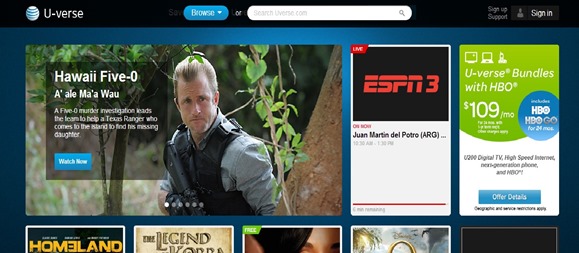 Have a look at the full press release after the break.
"All About… Live TV From Your Device
What is it? U-verse TV subscribers will now be able to use the U-verse app or Uverse.com to tune into live TV programming. Please note: The type of access varies by network. Some networks have provided rights only within the home (member must be connected to residential gateway). Other networks are providing access both in and out of the home.
What networks are participating? We will launch with live access to approximately 108 channels. Of those, 25 will be available outside of the home. Sample channels that are participating:
Travel Channel
HGTV
Food Network
Showtime
Starz
Content is based on the subscription package. If the customer's package does not include a particular channel, they will not be able to access it on the U-verse mobile app or through Uverse.com
Programming watched inside the home doesn't count against the Customer's number of streams
How does the customer access it? By signing in to uverse.com or the U-verse app. Access is authenticated by the customer's log-in and password. This is no change from the current experience today for Live on Uverse.com or On Demand across platforms.
When does this launch?
U-verse App: Existing subscribers will need to update their app to the latest software release to receive these changes. New subscribers will receive the live TV feature with initial app download.
Uverse.com: Upon visiting the LIVE TV page (Uverse.com/Live) users will be encouraged to Sign-In and are then presented with the option to install a browser plugin that will help to identify the subscriber's connection location.
iPad: 9/30
Uverse.com: 10/4
iPhone: 10/16
Android Tablet: 10/21
Android Phone: 10/21"
Via Engadget