The Spigen SGP Skin Guard for iPad mini is available in five colors (silver, black, grey, deep black, white), but our best is the one with carbon fiber look. While like most iPad Mini cases, it covers the back, it does not covers 100 percent of it. It has a hole for the camera.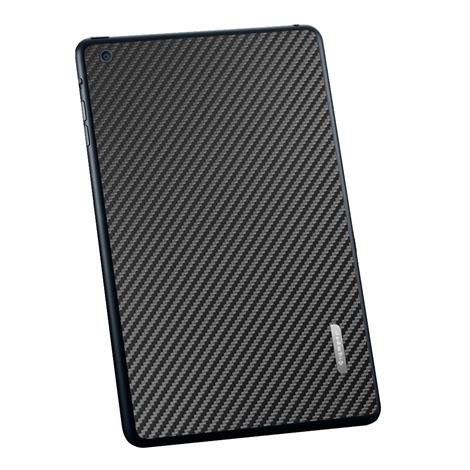 In the package, you get cleaning cloth, metallic Spigen sticker. You can even stick in most other cases. We think that would very stupid – who puts on a guard over a case? Nevertheless, you cannot go wrong with it as it costs just $20. Features.
Premium protective skin
Eco-friendly product made with no harmful substances
Polyurethane skin for a soft texture
Luxurious pattern for a real leather and carbon feel and look
Size to specifically fit the device
Easy to install / remove
Silicone adhesive that leaves no residue after removal
Skin Guard made in Korea
And some questions about the Skin guard.
Q. Is the Skin Guard set reusable?
A. Yes, our SGP skin guard set uses very strong 3M adhesive which allows it to be reattached to the device.
Q. Are these skins real leather?
A. All our skins are eco friendly faux leather, mainly to make the skin as slim as possible. The product is made with premium high grade material that makes it feels and even smell like the real thing! The Skin guard also resists very well against scratches.
Q. Is the skin exactly fitted to the device?
A. No, we usually tailor our skins slightly smaller (about an inch short all around) for easier application and better compatibility.
Q. Is the Skin Guard Set compatible with any cases?
A. Yes, it is absolutely compatible with most of the cases that we offer.