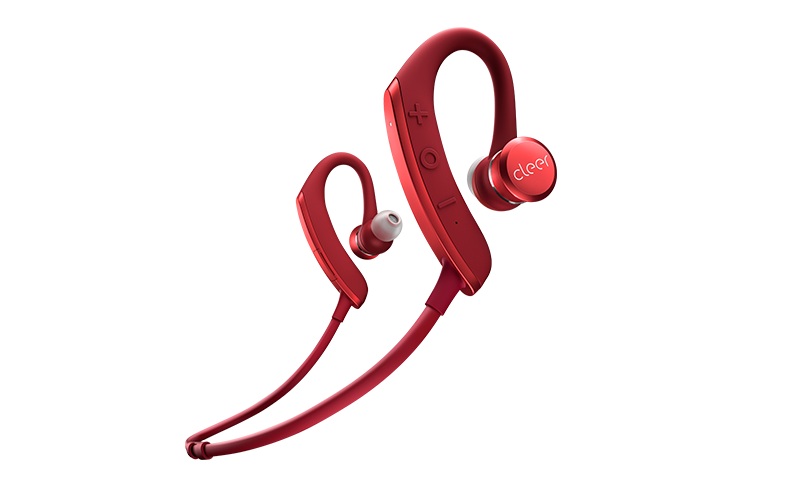 Cleer Edge Pulse is a headphone that doubles as heart rate monitor. It is a wireless headphone so it works without wires and has awesome fitness feature. Priced at 150 dollars, the Edge Pulse has battery and controls on the wire that goes behind your ears. This keeps the wireless headphones securely on your head.
The Cleer Edge Pulse is water resistant and has excellent build quality. We are confident that it works pretty well as an excellent workout accessory.
It worked pretty with our iPad using Bluetooth 4.2 radio. Battery life is around six hours. As pointed earlier, it flagship feature is heart rate monitor that is hidden under ear tips. It comes in two colors – red and black.
Features:
Flexible ear-loops and silicone eartips provide secure comfort
Bluetooth® 4.2 with NFC delivers flexible, wireless performance
Heart rate feedback compatible w/ most popular fitness apps
Shockproof, IPX5 water-resistant1 for a worry-free workout
Voice guidance for ease of use and on-demand heart rate updates
5.8mm neodymium drivers deliver rich, motivating sound
Take important calls mid-workout or on-the-go noise free
Quick Charge: A 5-min charge provides up-to 1-hour of playback
Max your workout with up-to 6-hours playback (heart monitor enabled)
Micro-USB cable, clip, eartips (S, M, L), and pouch supplied