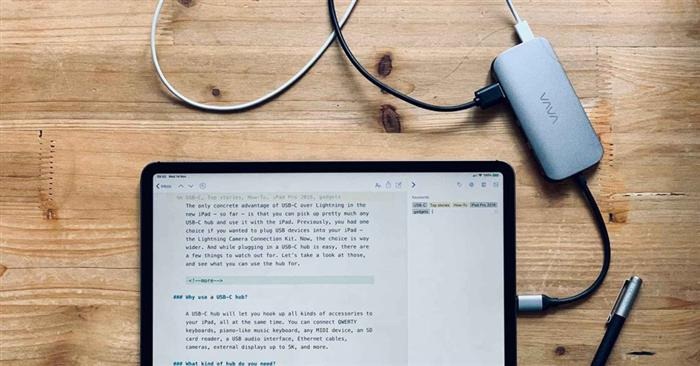 With the release of new products by Apple and where the Cupertino have updated some of their products to the standard USB-C with or without Thunderbolt 3, it is a good time to recommend some of the many USB hubs that exist in the market. Some of them have great possibilities in terms of expansion, connectivity and energy, so let's see what they offer us.
The HUBs that we find today are not simple port multipliers. Some go well beyond and it would be convenient to know what they offer and for what price.
In this article we will recommend different ranges of hubs to try to cover all the possible needs for Apple devices with USB-C, although adopting the Cupertino standard are extrapolated in almost all its features for any PC, smartphone or tablet with said port.
VAVA USB-C HUB with Apple MFi certification EUR 54.99
VAVA USB HUB C (8 in 1), [Apple MFi Certified], USB Adapter C 3.1 Quick Charge│Ethernet Rj45 1000 mbps│HDMI│3 USB Ports│SL / TF Card Reader│ Mac / Mac Pro / Laptop Windows Type C
A 8 in 1 very complete, gigabit ethernet port compatible charging with charger Macbook, 1 slot for Micro SD cards, 1 slot for SD card 1 X HDMI 4K @ 30 FPS and 3 ports USB 3.0 with a port USB -C.
HooToo HUB USB-C MFi Certificate included EUR 39.99
HooToo HUB USB C (6 in 1) 100W Powered + HDMI 4K Ultra HD + SD Card Reader + 3 USB Ports, Multiport Adapter for Mac / Mac Pro / Chromebox Pixel [MFI Certified], Space Gray
With a USB-C port, a charging port for Apple devices, USB type A, 1 x HDMI and a reader for SD cards. By being certified it is possible to charge devices with up to 100 watts.
TUTUO HUB USB-C to HDMI EUR 16.99
TUTUO USB Hub C to HDMI Adapter Type C to 4K HDMI Cable Type C with USB-A Port Compatible with Thunderbolt 3 for Macbook Pro, Galaxy Note9 S9, Huawei Mate 20 P20 Pro
With only one HDMI port and one USB 2.0 this HUB is one of the most basic available but it has an unbeatable price. Its HDMI is capable of 4K resolution and up to 60 Hz while in its USB port we can connect any compatible device.
Homeofying 3 in 1 OTG USB-C EUR 6.43
Homeofying – Memory Card Reader 3 in 1 OTG Type C USB 2.0 Micro-USB TF Micro-SD High Speed ​​Black
HUB of small size and price but quite complete. USB 2.0, Micro USB, USB-C, card reader or OTG function (both at the same time is not allowed) all at a really low price.
TWOPAN T8 with DUAL USB-C design EUR 86.85
TWOPAN T8 USB C Hub for New MacBook Pro 2016, 2017, 2018, 13 "& 15" only, Thunderbolt 3 Aluminum Dual USB Type C 2-Port USB C 3.0 Hub, SD / MicroSD Card Reader, Power Delivery. Travelers' Best Choice
They differentiate you from the rest of your DUAL USB-C that allows you to connect to both sides of a Macbook for example. It incorporates a high-precision CNC machined aluminum housing. It is a 6 in 1 quite complete, since it is compatible with Thunderbolt 3 40 Gbps, includes a USB 3.1 type C, SD card reader and Micro SD, and also has two USB 3.0 ports. Possibly the most expensive available and that does not include video output.
Conclusion
When choosing a HUB, like any device, we have to take into account our needs, but in this type of device, the present ones may be somewhat short. Thinking ahead looking at the price of some of them can be really useful to avoid a second payment for lack of features.
In this case we recommend that you opt for a HUB that at least provides 80 watts of total charge, in case you need to connect several devices. Keep in mind that the maximum load for Thunderbolt 3 is 100 watts and its maximum total speed is 40 Gbps, so as a rule any device that includes them will have a higher price than one with lower speeds and power.